Happy October and Down syndrome awareness month!
I am both excited and nervous to share with you about what we have been learning in this season with Claire and our family. It feels like a tornado picked us up, shook us around and then plopped us back down at a new address. My life feels strange, like my family and I got swopped out for someone else's family, an acquaintance with similar friends but lots of new ones too. I love the new school, SUV, neighborhood, friends, job, house but it's shocking as well. Like someone forgot to add water to the concentrate of life. If water is all the expected, mundane, necessary living were not much changes and the concentrate is all the life changing stuff like having babies, moving and getting a new job (just to name a few). Life has been so full, what should be sweet tastes bitter, overwhelming, like when my 5 year old thinks she'll make her own tang and then the face, you know that face? We have had three years of major, "find your new normal," accomplishments and tragedies all jammed into 10 months.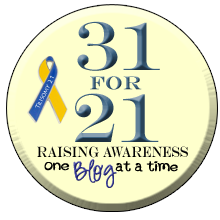 Grab This Button
Instead of giving it all away in the first post, you'll just have to read along, unpack them one by one. It'll be good, time for reflecting, time to find the treasures when we play the scenes back in slow motion, remembering that down syndrome is beautiful and my children with special needs bring me to the feet of God, right where I belong. Here we go 31 for 21, 31 days of posting on this blog for Trisomy 21 AKA Down Syndrome.